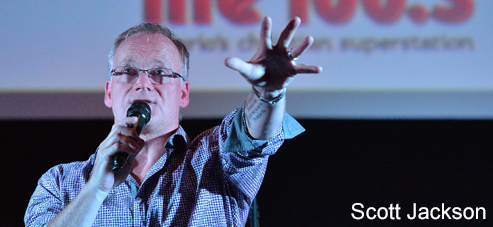 LAUNCH OF LIFE
While working at B101 part-time, I found out that the CRTC had changed their minds and was now giving licenses to Christian radio formats. I got the crazy idea of starting a station.
I told my Pastor, John Howard at Bethel Community Church about my idea. He loved it and advised me to approach the Barrie Ministerial. Seemed like a good idea, telling the pastors before the public. Get this - I believed that the ministers of Barrie were going to embrace me for coming up with the idea of a local Christian radio station. They didn't. Far from it. I guess they saw me as "a new guy in town," probably thinking I'd change my mind and return to Nashville.
But, word got around. The newspapers wrote stories and churches asked me to come and speak. I aggressively asked churches and individuals to donate money to the vision and many did. In fact, the entire start-up funds of $185,000 all came in. We didn't even need a bank loan!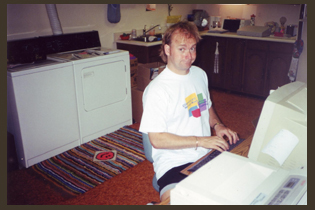 The CRTC license application was written in my parent's basement, where my wife and our two kids were living - saving money. My computer was in the laundry room. From there I was busy writing our first newsletter, making music playlists, forming our Board of Directors and working the Barrie media trying to generate a buzz about the new station.
At the time, the name "LIFE" was a secret. We saved it for the launch and that was one of the best things we did. Everyone wanted to know the name!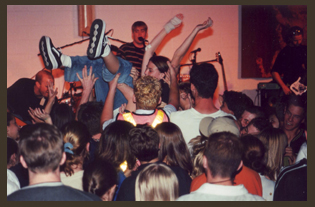 Early on, we started developing the Air Raid concert series. The first three Air Raids took place before we even went on the air. They began as a fundraising venture to help us develop funds to start the station. We soon discovered there is NO MONEY in Christian concerts so the concert series was viewed strictly as promotion.
The first "Air Raid" was actually called "Youth Concert". The poster is on display at LIFE today and gosh is it cheesy! The first concert was headlined by Rise from Oshawa. The support acts where Lorraine Peters, Lyman (a ska band from Bradford) and my friends The Cheese Monkeys From Planet Nine.
Over 200 kids packed out Bethel Community Church in Barrie on September 25, 1998. Kids were loving the radio idea! They started crowd-surfing, which soon after, came back to bite me big-time! Several people (including pastors) scolded me for allowing such "a worldly activity" to take place. (I think a lot of people get wound up a bit too tightly about what is, and what is not appropriate.) A few years ago a kid confessed to me that he was one of the crowd-surfers - and he was a PK! Hahaha!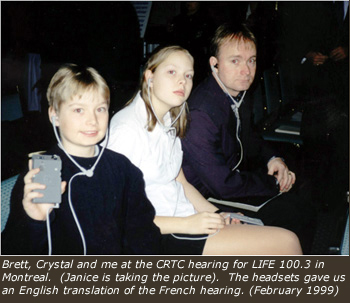 Everyone in radio talks about the "evil" CRTC but in my dealings, it was a breeze. They spent time with me over the application and explained everything without rushing. B101 wasn't very impressed with my idea but Doug Bingley - the owner of ROCK 95 - was! In fact, he wrote a letter to the CRTC giving them four reasons why he was supporting our application for a radio license! (Thanks Doug!)
Air Raid 2 took place November 28, 1998 at Barrie Alliance Church. It was not so well attended but a young fellow with very long blonde hair, who loved loud music, loved concerts - introduced himself. (Later Stooley was hired!) That show featured Dumb As Sheep, The Shoe Files and The Kool Jive Turkeys. To keep the "old people" happy, we banned crowd-surfing and forced a short Biblical devotional after the concert. It sure killed the excitement of a rock concert. We never did that again.
Air Raid 3 was held at Innisfil Community Church on June 19, 1999. On the marquee Zaccís Tree who headlined the show, plus support acts Shovelling Taxi (which features Prim Dogg on drums) and Steadfast. It was poorly attended but without a radio station to use for promotion, we were kind of doing things backwards.
Our application was complete and the CRTC gave us a rubber stamp approval in April 1999. One week later, we quickly put together a media release inviting everyone to Barrie's City Hall to hear the public announcement. It was a special day for everyone who was part of the LIFE team.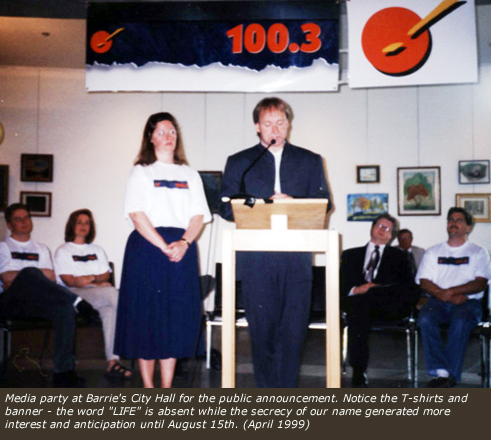 Our proposed on-air line-up and behind the scenes staff was there. There were speeches by City Hall officials, including MPP Joe Tascona. Kat and Friends performed a mini-set of music including her hit song "My Heart, Your Home" and later she joined the on-air announcer team.
Laurie MacLeod was instrumental at putting together our City Hall party. It was a first class promotion!
Following that day, everything happened quickly. After signing the lease on High Street, Dave Watson and I covered the studio walls with scripture verses, written on by hand. We wanted the on-air studio surrounded with God's Word. The writing is now covered with soundproofing but it's still there for the next tenant to discover!
Brian Cathline came on the scene and graciously offered to wire up the entire studio and production. At the time, I was thankful. Today, I look back on the hours and hours and the wiring and the amount of patience - my goodness - Brian thank you again!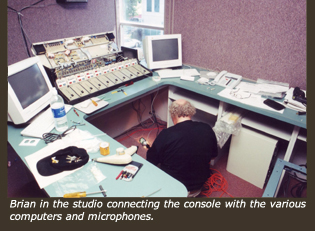 Brian and I went to CHUR in North Bay, where I used to work in 1993. Andy Wilson from CHUR offered us their old studio. "Take what you want", he said. We took everything! The studio mixer console, the speakers off the wall, the coat rack, the busted microwave, file folders and about a dozen tipsy chairs. We loaded up a cube van and brought it all to Barrie. Brian, put it all together.
Throughout 1998 I was meeting anyone who would listen to me talk about Christian radio. Dozens and dozens of people helped paint walls, drop computer lines, lift, carry and pray. People brought their friends and in the end I cannot recall all the people who pitched in but from the day we got approval in April to the day we signed on in August, there were many long days and short nights!
One evening Janice and I were doing the dishes at my parentís house on Codrington Street where we lived and the phone rang. The gentleman asked me to come and pick up a cheque at his house. We went to his house and I shared my vision and to my amazement he handed me a cheque for $50,000! No kidding! I remember my pastor telling me, "donít ever take a donation if there are strings attached". I asked him if he wanted me to hire his wife or uncle or mother-in-law. He laughed and said "No, just take the money and finish your radio station". Wow - $50,000. I thought that only happened to other people but not me. I have not heard from him since although he has waved to me from time to time at events. Bless you my friend!
As the renovations to Suite 203 continued, I was working on the outside, still speaking in churches, getting newspaper coverage and talking to any pastor who would listen.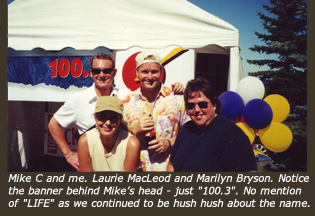 Laurie MacLeod got us booked at Kempenfest where 250,000 people visit each summer. Some people knew that Christian radio was coming - most didnít - but they heard our music! The sun was hot and we were so excited. Only two weeks away from sign-on.
About a week before, I held a staff meeting and announced the name. We listened to our new station IDs and jingles. The word "life" just fit. Ah, so the "LF" in CJLF stands for LIFE? Yes it does!
Our three-week transmitter test started in mid-July. It consisted of a short announcement and the song "My Life Is In You", repeatedly continuously. The test was to ensure our signal didnít interfere with another radio signal, or the airport, or something else. I selected "My Life Is In You" because of the word "LIFE" - it was just another tease to our name. I changed the message to announce the "August 15th" launch and the song changed to "For The Sake of the Call" but to this day, when I hear "My Life Is In You Lord", I am amused!"
Launch day was August 15, 1999. It is without a doubt the highlight of my radio journey. Adding to the significance of the launch is the fact that this project included my wife. She had not worked in radio before - she was only a "radio wife", but this time we are in it together.
On August 15th, I spoke at Hi-Way church in the morning, then swallowed a fast lunch and met everyone at the radio station. Almost everyone, from staff to volunteers were there.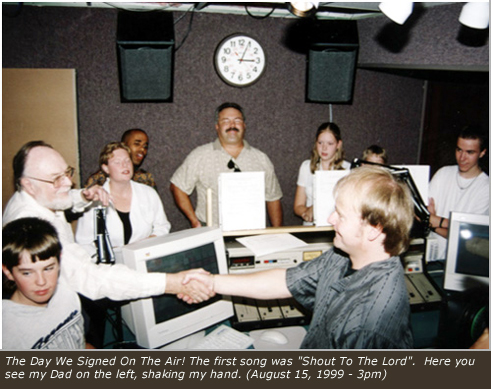 3 O'clock. August 15, 1999. First there was a mini-speech by me, then the theatrical 90-second countdown. It was produced by Mark Lacock at Z95 in Vancouver. It was sensational! 3-2-1 - then "Shout To The Lord" rolled out across the airwaves as our first song.
The original on-air line-up was Ben Davy and Susan Roffel on the Breakfast Club. They were both radio rookies. On middays was Brother Mike who was a veteran, having worked in North Bay, Sudbury, Thunder Bay, Cornwall and many more over the years. Mike's shift went from 10am-3pm, followed by me in the afternoon and a real flamethrower - Mike Christopher every night at 7pm.
Mike and I met at Humber College. I was doing some part-time teaching during the building of LIFE 100.3. Mike and I became friends outside of class and he accepted Christ in the summer of 1999. Mike left us in March 2001 for a job at KISS 92 Toronto. He and I remain in regular contact to this day.
Little Dave Watson from Barrie was our first Music Director but left in January 2000. Maria Enqvist who I worked with in Sudbury and North Bay is now Music Director.
Well, if you'll pardon the pun, that's "the evolution" of LIFE! Our mission was then, and is now, to bring glory to Jesus Christ through music and teach with professional radio programming.
And that's how we started LIFE 100.3. The continuing story, from my perspective, can be read
here
.